Axe Shop is open! ....  Current hours are 1-5 PM, Tuesday - Saturday, and we are still accepting guitar and amp repairs. 
Also, if you need a shipping box for a guitar or bass that you have sold  privately, Axeshop has a number of sizes available for purchase. We know they can be hard to come by, so call us  at 845-240-1878 with any questions!
...and we don't just mean the guitars. If you like your music shops to be slick and corporate, then you might just want to pass us by. But, if you like your music gear vintage, your experiences authentic, and your people real, knowledgeable, and friendly... 
...then welcome to Axe Shop. More than a music store - we're a rock 'n roll American Classic. Visit us in historic Wappingers Falls, NY!   
   if you have a Vintage instrument or Amplifier to sell or to be appraised ...   Jimi Heslin is available by appointment at your convenience  ...please call 845-240-1878   or email to  set it up...   jimiheslin@optonline.net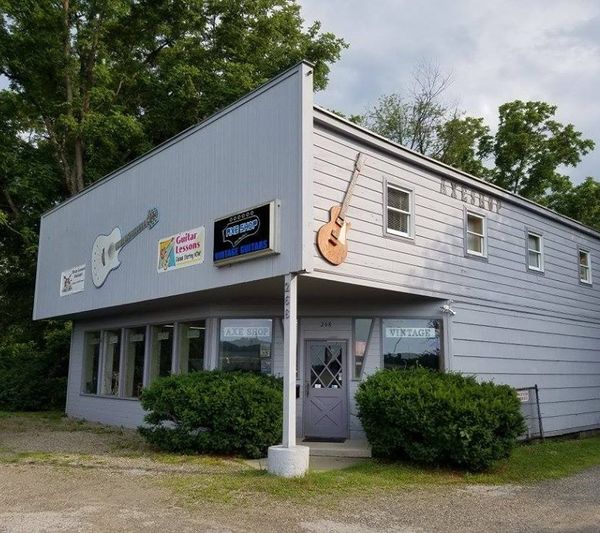 Showroom Floor
Looking for a great guitar find? A one-of-a-kind piece - either brand new, or used and restored to perfection? Well you'll find it here - and at an affordable range of prices. There's something for everyone in the Lotz of Guitars Showroom, here at the Axe Shop. Too much gear, and looking to sell or trade? The Lotz of Guitars Showroom is the area's best venue for selling and trading your used gear. Come visit us today - we're open from 12:00 to 6:00 PM, Tuesday - Sunday!   call us at 201-527-0895  or email us at  led1422@yahoo.com
Vintage Guitars and Amps &  Pedals  by most popular brands from yesterday to high end current pieces  from today are all ready for you to play!   The Vintage Vault at Axe Shop boasts a collection of guitars and amps like no other in the region. Their showroom is ready to rock, so come on down to Axe Shop today, and say "Take me to the Vintage Vault!" Open 1:00 to 5:00, Tuesday - Saturday (or by appointment!)